Home Security & Automation
Get a professionally installed home security & automation system today. We'll come to your home, make recommendations, do the installation, and provide ongoing support and updates to keep everything running smoothly. 
Your Smart Home Has Arrived.
The days of a security system only providing an alarm are in the past. We can turn your security system into a powerful smart home that is fully automated. More than a smart app or a cool thermostat, we seamlessly connect the key smart devices in your home on one platform - so they work together and work smarter.

Modern, Reliable & Easy To Use Smart Security
Using a dedicated cellular connection, your property will be secure even if the phone line is cut, the power is out, or the internet is down. You'll get 24/7 professional monitoring, and technology powered by Alarm.com & Qolsys - the leading smart home security platforms used by over 5 million people. Our connected home services play nice with your favorite devices, integrating easily and intuitively. Your sales consultant will help you connect your smart home devices to your new security and automation system.
24/7 Home Alarm Monitoring
With 24/7 home alarm monitoring services you get the immediate help you need in the event of alarm activation - even if your phone line is cut, the power goes out, or the alarm panel is smashed. Certified, highly trained agents are always standing by at the UL listed central station, ready to respond and assist when your alarm activates and dispatch first responders in the event of an emergency.
Detect and deter porch pirates and solicitors with our doorbell camera and video camera systems that integrate seamlessly with your home security. Easily check in on your home, property and front door from your smart phone.
Security Cameras for The Entire Home
Our camera systems, easily installed around your home, grant you remote access via laptop or smartphone. This means you can keep tabs on your home from anywhere with an internet connection. We offer a range of security cameras to suit various needs and budgets, ensuring you find the perfect fit.
If you already have a camera system but crave improved coverage and sharper images, we've got you covered. Our upgrades enhance visibility, so you can see precisely what's happening at home.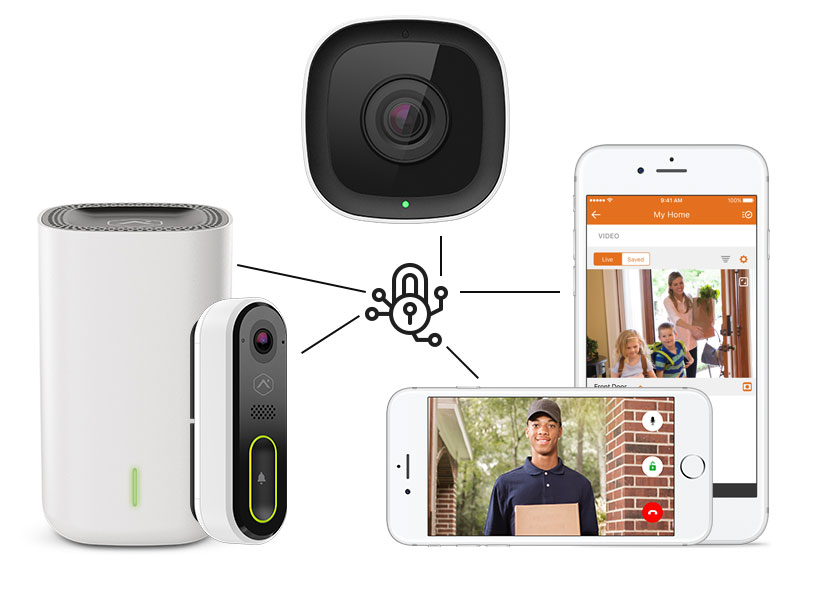 Connected. Protected. Wherever You Happen To Be.
Whether you're at home, across the street or across the country, our interactive services, powered by Alarm.com, enable you to manage all of your systems-security, energy, and home automation-from your smartphone, computer, or tablet to receive important information remotely.
Smart Apps

Easily connect to your existing smart home devices like Alexa, Google Home and more. Control your security system right from your smart phone. 
Energy Management

Control your lights and thermostats & set custom temperature & lighting schedules for you are at home or away and maximize energy savings.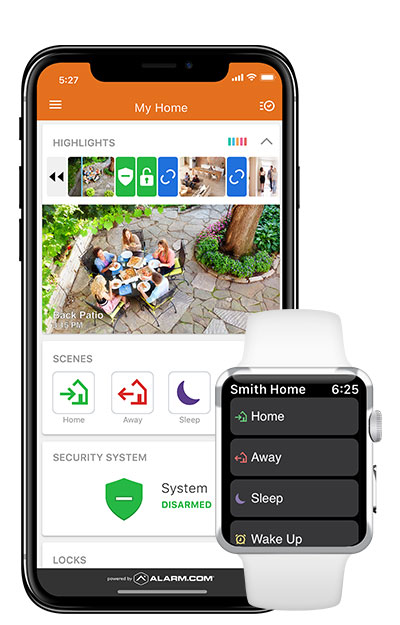 Smart Video

Our video surveillance system is easy to use and allows you to easily check in on your home, property and front door from your smart phone.
Smart Door Locks

Control who has access to your property with integrated smart door locks for exterior & interior doors and garage doors that you control via our mobile app.
Alarm Monitoring For Fire, Carbon Monoxide, Flooding & Medical Events
After your home security system is installed it is linked to our professional monitoring center. Staffed by highly-trained professionals, Hirltle Alarm's monitoring center is ready to respond to any emergency at your home, 24-hours a day, 365-days a year. Our monitoring center is UL listed, so you can rest assured it has met the highest monitoring standards in the security industry. 
Carbon Monoxide Monitoring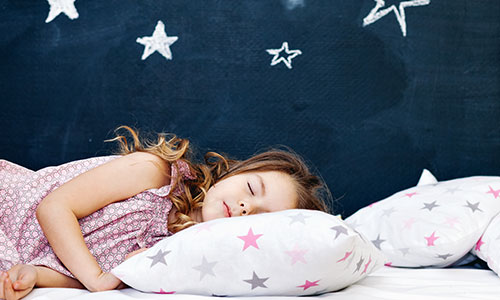 Fire, Smoke & CO
Smoke and fire detectors are great but what if you are not at home when the fire starts? With 24/7 fire alarm monitoring, our monitoring center will dispatch the fire department to your home when smoke, CO or fire is detected.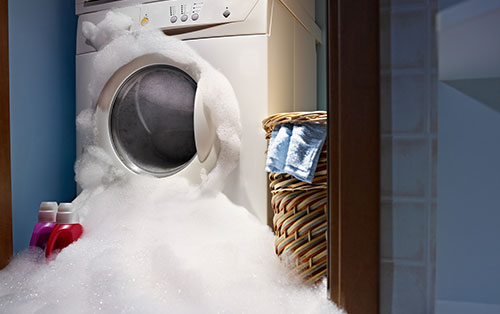 Environment Monitoring
With flood & tempurature monitoring, you'll get text alerts and 24/7 monitoring so you can stop a problem before it gets out of hand.
Customized Home Security: Your protection is too important to do it any other way.
If you want to enjoy real security and peace-of-mind for yourself and your family, don't settle for less. With Hirtle Electric & Alarm, you'll get a customized security system designed, installed and monitored by a leading security company located right here in your area. All at a price that is surprisingly affordable. So why compromise? Contact us today.